Google Pushes AI
Google Pushes AI, Machine Learning to the Front
Protect Your Future NOW - Five Easy Steps to Eliminate Legacy Contact Center Risk
Is your management team asking about the future of your contact center technology & strategy? This webinar will show you how to avoid pitfalls when replacing infrastructure, as well as how to create an effective migration plan. View Now!
Addressing thousands of developers at the annual Google I/O conference on Wednesday, Google CEO Sundar Pichai outlined the company's new strategy to transition from mobile first to artificial intelligence and machine learning. The goal is to equip the company's line of digital assistant products and services to anticipate the needs of users, and comprehend sights and sounds in ways never before possible on a massive scale.
Google's deep learning and computer vision capabilities have advanced dramatically, according to Pichai, and now impact everything from cloud computing to Gmail, search and mobile devices.
"We spoke last year about this important shift in computing from mobile first to AI first," Pichai recalled. "Similarly, in the AI-first world, we're rethinking all our products and applying AI and machine learning to solve human problems."
Among the major new rollouts, Google Lens technology will become a part of Google Assistant and Google Photos. The technology essentially allows users to convert their smartphones into intelligent devices. They can use computer vision, for example, by pointing at a router barcode. Users can log on to a WiFi network automatically, or point the phone camera or point at a restaurant storefront and find out contextual information about its cuisine and ratings from a knowledge graph.
Following last year's launch of Tensor Processing Units, which is custom hardware for machine learning, Pichai announced the company's next generation of Cloud TPUs, which are optimized for training and inference.
Each Cloud TPU board has four chips inside, and each board is capable of 180 trillion floating point operations per second, he said. The cloud TPUs are designed for data centers -- 64 can be stacked into one supercomputer.
A 'TPU pod' built with 64 second-generation TPUs delivers up to 11.5 petaflops of machine learning acceleration.
---
The Cloud TPU's are coming to Google Compute Engine immediately.
The company plans to launch an effort to automate the design of machine learning models, using an approach called "AutoML." The controller neural net proposes a "child" model architecture, which is trained and evaluated for particular tasks.
Google will be partnering with UC San Francisco, Stanford Medicine and University of Chicago Medicine to explore how machine learning can help advance patient care for heart failure, pneumonia and other diseases.
The company's advances in TPU should vastly improve developer interest in AI and machine learning, said Charles King, principal analyst at Pund-IT.
Smarter Devices
The new Google Assistant SDK will allow third-party manufacturers to make their products -- like speakers, toys or other devices -- available with Assistant built-in for the upcoming holiday season, said Scott Huffman, vice president of engineering for Google Assistant .
The service also will be available for the iPhone, putting it in direct competition with Apple's Siri.
Google Assistant will be available in multiple languages starting this summer, including French, German, Brazilian Portugese and Japanese on Android and iPhone. Italian, Spanish and Korean will be available by the end of the year.
Among its new features, it will be able to support transactions, including receipts, notifications, IDs and more.
Google Home will launch internationally in Canada, Australia, France, Germany and Japan, announced Rishi Chandra, vice president for Home products.
Effective immediately, Google Home supports proactive assistance like reminders, traffic delays and flight status changes, he said.
Over the next few months, Google will roll out more new features to Home, including hands-free calling to landlines and mobile numbers in the U.S. New entertainment services are coming to Home, like Spotify's free service, support for SoundCloud and Deezer, integration with HBO Now, and Bluetooth support from any audio device.
In a nod to developer demand, Google announced that Kotlin will become an officially supported language on Android, the first new language added to the OS. Further, Google has entered a partnership with JetBrains to create a nonprofit foundation for Kotlin. Also, Android Studio 3.0 will be shipping with Kotlin out of the box.
The rollout of products and services was designed to establish Google's bona fides as a company clearly driven by its AI capabilities, and the message was driven home that the company is putting its machine learning expertise front and center, adding more personalization and more contextual awareness.
Google previewed its long-awaited Android O release, making its beta available immediately. The announcement follows last week's release of Project Treble, a new architecture that makes it easier and faster for developers to update Android devices.
Sameer Samat, vice president for Google Play, gave a preview of Android Go, a new platform for entry-level devices using less than 1 GB of memory. The service will use a set of Google apps that use less memory, storage space and mobile data, and highlight apps that are designed for entry-level device users.
Competitive Advantage
Google has a key advantage over its major competitors, said Kevin Krewell, principal analyst at Tirias Research.
"Relative to Microsoft and Amazon, I believe Google is far ahead, because it has access to more data than its competition," he told TechNewsWorld.
"In order for AI capabilities to grow, it needs to train on large data sets, and Google has access to Android mobile services, Google search, Google Voice, Google Photos, etc.," Krewell pointed out.
"This seemed to be more of a statement of direction, one that places AI as Google's highest priority," said Rob Enderle, principal analyst at the Enderle Group.
"Nvidia showcased more actual advancement at their GTC event last week," he told TechNewsWorld.
Still, Google is putting a huge amount of resources behind its AI focus and has enough of a war chest to back it up, Enderle acknowledged.
"Given we are at the very start of this race, it will likely come down to how long AI and machine learning hold Google's attention, more than anything else," he said. "Google has a shiny object problem in that they have historically had the attention span of a 4-year-old on sugar."
However, unlike Google's subpar efforts with Google+, Glass and Wave, artificial intelligence isn't unique to the company, Enderle observed, which makes it unlikely the firm will walk away from it any time soon.
WiFi
Consumer WiFi Use: No Letup in Sight

Protect Your Future NOW - Five Easy Steps to Eliminate Legacy Contact Center Risk

Is your management team asking about the future of your contact center technology & strategy? This webinar will show you how to avoid pitfalls when replacing infrastructure, as well as how to create an effective migration plan. View Now!
Consumers use lots of data on their mobile devices. While half of consumers use less than 7 GB per month, data consumption is heavily skewed toward the upper end, recent Parks Associates research indicates. Among U.S. broadband households, mean data consumption is roughly 20 GB per month, with 14 GB used on WiFi and 6 GB through 3G/4G/LTE networks.
Consumers' monthly WiFi data consumption increased by 40 percent from 2015 to 2016. While data use overall has been increasing, WiFi use has been increasing faster than mobile data. The use of WiFi is strongly correlated with the use of 4G/LTE data. As use of one increases, so does use of the other.
---
---
Even unlimited data plan holders use WiFi; one-quarter of them use more than 15 GB of WiFi data per month, based on Parks' findings. This implies that there is a "data hungry" type of mobile user comprised of those who want to consume video content and other data-hungry services and are not particular about the kind of data they use.
In the Home
In the U.S., about 75 percent of broadband households use a home WiFi network, which equals 76 million home WiFi access points. Consumers can make their WiFi Internet connections in a number of ways -- through DSL or fiber-optic broadband from a telephone company, cable high-speed Internet from a cable provider, satellite Internet from a satellite provider, or, increasingly, through WiFi hotspots powered by a device accessing a 3G/4G mobile network.
In addition to these more established WiFi solutions, fixed wireless broadband is beginning to emerge as a viable and robust technology. Fixed wireless broadband traditionally has offered last-mile service over a wireless connection using high-frequency radio signals. The older technology typically was limited to 10 Mbps of network bandwidth, required line-of-sight access between the subscriber and a ground station, and suffered from attenuation during the rain and fog.
However, newer experiments in the mmWave band, done in anticipation of 5G, have solved these issues to a large extent, allowing fixed wireless broadband to expand beyond its traditional offering.
Starry, a wireless startup, can deliver Gigabit-class Internet to the home over a distance of 1KM to 1.5 KM using mmWave technology in the 39-GHz band. Both Verizon and AT&T plan to launch a precommercial 5G network for fixed wireless service using mmWave spectrum later this year.
Out and About
This hybrid model is made possible by the latest WiFi hotspot standards, which partition the WiFi channels into public and private use. Through this kind of technology, public WiFi hotspot numbers are increased dramatically in these countries, a benefit appreciated by wholesale and retail customers.
The U.S. market may not be well suited for this WiFi use case, because public WiFi hotspots in U.S. residential areas don't attract many users. Comcast most recently launched its long-anticipated Xfinity mobile service, highlighting its WiFi footprint of 16 million access points. This figure appears to include its home hotspots in the residential area.
Time will tell how such home hotspots are being used, and whether such use can translate into meaningful subscriber gain for Comcast or other cable multiple system operators with similar WiFi assets.
Consumers' appetite for mobile data will continue to increase at a faster speed, no matter the location, based on Parks' research.
Monthly consumption of mobile data will top 49 exabytes, up from 7.2 exabytes recorded in December 2016, according to Cisco.
While mobile networks will be upgraded by then, this data tsunami nevertheless will pressure-test a mobile network's limits, and offloading solutions like WiFi are expected to play an important role in mobile operators' network densification strategy.
U.S., over 100 teens shared with us their personal experiences with social media and romantic relationships.
Meeting a Significant Other Online
Some 35% of teens have some type of experience in a romantic relationship, a figure that includes current and former daters, as well as those in serious and less-serious relationships. Among teens with dating experience, 76% say they have never dated someone they first met online, but one-in-four (24%) have dated or hooked up with someone they initially encountered online.
It was relatively rare for teens in our focus groups to talk about meeting romantic partners online. Some teens explained that they would not trust someone they met online because of the likelihood of misrepresentation, while others were generally distrustful of all strangers online.
You might be catfished.
High School Boy
Some girls don't really look like they do [on]Instagram. That's why you've got to meet.
High School Boy
If I don't know them, I'm not going to, like, to talk to them.
High School Girl
But despite this general wariness, some teens did describe meeting romantic partners online. These teens often mentioned social media as a platform for meeting potential partners.
... I was dating this girl that I met through a social website that probably hardly anybody knows about. So it's a dating website for teens. ... It's called MeetMe. It was like, oh, what the hell. I'll try it. And I met a girl on there and she lived up in [location]. I still talk to her, but we're not together.
High School Boy
I just met a girl on Facebook, like, messaged her and then met her in person. That was all. I just met her.
High School Boy
I've met a person over Instagram, actually. ... Direct messaged them. And we talked for about a week, and then I decided he actually seems kind of chill. I'm going to give him my number. And then I took it slow, like cause meeting someone over the internet isn't always the best idea. So if you're going to do it, like do it very carefully.
High School Girl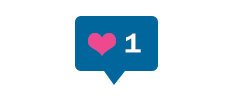 How Teens Show Romantic Interest
During the focus groups, technology – and especially social media – often was described as an integral part of the courting process for teens. Half of all teens (50%) have let someone know they were interested in them romantically by friending them on Facebook or another social media site, and 47% have expressed their attraction by liking, commenting or otherwise interacting with that person on social media.
Teens also spoke about social media as an information-gathering tool that helps them find out all sorts of information about a potential partner, like whether they are dating someone or not.
Well sometimes you might use social media to see if, like, they're going out with someone or something.
High School Boy
You want to know everything you can about them.
High School Girl
Many teens in our focus groups described flirting with a crush by liking their photos or posting a comment on their social media profile. These interactions have their own unwritten – but widely understood – rules. Everything from one's choice of emoji to the spelling of the word "hey" can carry a deeper meaning.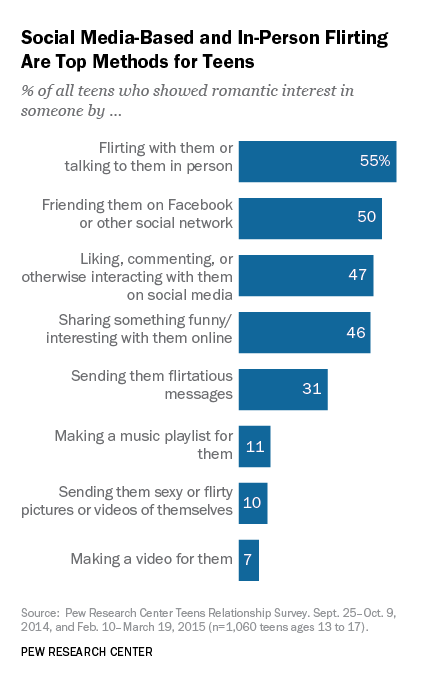 When I have a crush on someone and I want them to know I go on their page and like a lot of pictures in a row.
High School Girl
On liking a crush's photos on Instagram
Like all of them. Like, like, like, like, like, like all the pictures. You're the right cute factor.
High School Girl
On how girls show interest on Instagram
Emojis, but the main way you're going to know is like when they first say 'hey.' How many y's they put on their 'hey.' Yeah, they do that a lot.
High School Boy
Well, if you really putting yourself out there, you could comment on their picture with a heart emoji.
High School Girl
Text messaging also is a common way for teens to flirt and express romantic interest. But for all the advantages digital communication can offer, a number of teens in these focus groups said they are more at ease when talking to the object of their affection face to face.
I usually text my crushes. ... I flirt with emojis, and I usually be myself if they don't like me for me [... tough]. I'm very open and talk to a lot of people or talk to them face to face.
High school girl
I can only ever flirt in person and that is on [the]rare occasion when I have been gifted with super powers, clearly.
High school girl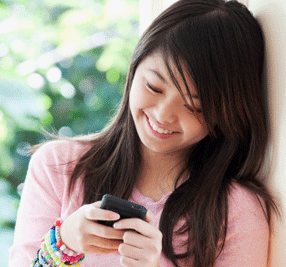 A little bit more bold over text, because you wouldn't say certain things in person. ... You just wouldn't say certain things in, like, talking face to face with them because that might be kind of awkward. But over text, it's like, OK. Cause they're not really there.
High school girl
On talking to a crush via text message
It's like good and bad things because, like, all those texts, you really can't communicate the way you communicate in person. Like they can't really hear the tone of voice. They might think that you're saying something in some type of way.
High school boy
How Teens Communicate in a Romantic Relationship
Text messaging and talking on the phone are the top two ways that teens spend time with their romantic partners – but when it comes to daily interactions, texting is by far the dominant way teens in romantic relationships communicate: 72% do so every day, compared with 39% of teens in romantic relationships who talk on the phone daily.
Some teens in our focus groups mentioned that their communication choices often evolve with the intensity and duration of their relationships. Others mentioned how text-based communication can help them overcome the shyness they sometimes experience in person or give them time to come up with the perfect response during conversation.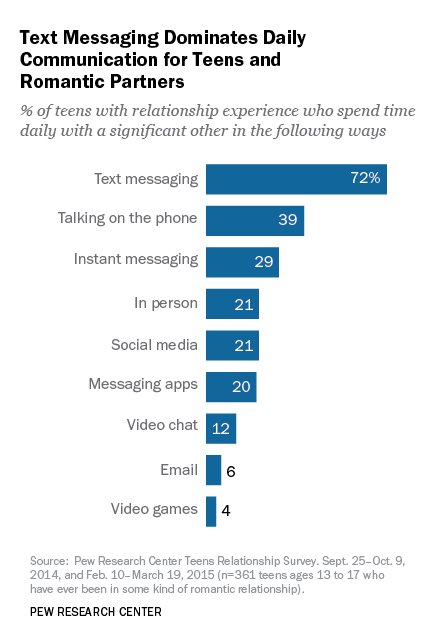 Like the best thing about texting is that you can think about what you're going to say. And if you don't like it, you can always get rid of it until the end. With talking, you can't really do that.
High School Girl
[In] my relationship with my boyfriend, we talk about everything, whether it's over text messages or in person over the phone.
High school girl
If you're like a thing or something, it's more likely that you're talking to them more. But text. If you just met them, it'd be weird if they called.
High school boy
I think texting kind of makes you feel closer because boys are more shy. ... But when we text, it seems like it's so much easier for him to talk to me. So I think he says more stuff, like how he feels through text.
High School Girl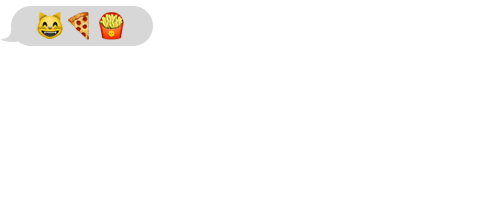 As mobile devices have made it easy to check in from a wide range of locations throughout the day, many teens now want to communicate with their romantic partner on a daily – and in some cases, hourly – basis. Indeed, 85% of teen daters expect to hear from their significant other at least once a day, and 11% expect to hear from them hourly. This issue came up frequently in our focus groups, as many teens expressed a desire (and in many cases, an expectation) that they hear from their significant other on a regular basis.
Many teens are online throughout the day on multiple platforms where their communications are visible to others, and dodging or screening communications from one's significant other in this environment is fraught with challenges. Teens in our focus groups described how a delay by their significant other in responding to a text message or phone call can make them feel ignored or unimportant, especially when they can see on social media that their partner is online:
You're tweeting but you can't text me?
High school boy
It's like, he made the status and I just texted him. Why didn't he reply?
High school girl
On Facebook it says 'seen,' too, so it's like are you avoiding me?
High School Girl
So recently, actually, like two days ago, my girlfriend actually got her phone taken away by her mom. ... So like a day or two passed by, I'm like wondering if I should text her. ... Check to see if she's looked at my Snap or whatever. Or not opened my Snap but my Snap story. Like so she's like seen it. And I saw that she liked something on Instagram. So like ... I was looking. Why didn't you text me? She got her phone taken, you'd think, you know. But she didn't. You know, so that kind of made me mad, but I didn't say anything because I didn't want to act clingy or whatever. So I just texted her.
High school boy
Teens also described other negative aspects of technology in romantic relationships, such as surveillance that leads to jealousy, as well as arguments between partners that play out publicly on social media for all to see. About a quarter – 27% – of teens with dating experience have had a partner use social media to track their whereabouts, and 27% of teens with dating experience say social media makes them feel jealous or unsure of their relationship.
If I'm in a relationship or something, my girl, she won't check my Instagram. She's going to check my comments and stuff. She sees, like someone commented on it two hours ago...Or somebody's like 'I miss you.' [And then she asks] 'Who is this girl?'
High school boy
On witnessing someone argue with a romantic partner on social media:
See, the thing that they did wrong is they didn't put it in messages. They put it in comments. When somebody's willing to fight, they bring out their problems and comments and let the whole world see and not just keep it between them. So it's this big old nasty problem.
High school boy
On personal experience with fighting with a romantic partner
Online when I know she's talking indirectly about me on Twitter. Like spreading our business out to the world of Twitter.
High school boy
Once you go public [with a fight], your relationship will never be the same. It's like you've messed up everything. That's the end of the relationship.
High school boy
Teens Use Social Media to Document and Display Their Romantic Relationships
Teens take a number of steps to show that they are in a romantic relationship with someone, and many of these rituals take place on social media. In our focus groups, teens spoke about the reasons why couples might showcase their relationship on social media, from seeking attention to letting others know that they are now "off the market."
Their status. And then other times, on Instagram it says in their bio, they put like the date they started going out.
High school boy
Yeah. You need to have the padlock emoji with a heart and two people holding hands
High School Boy
I mean, 'cause like if you and then person are, like, super open and you both use Facebook a lot, then you're going to like post pictures of yourself on Facebook. But if you're kind of like, oh, it's kind of a like a waste of time, then you won't do that.
High school girl
But publicly sharing the details of one's romantic life online is not without potential pitfalls, and many teens elect to not document their relationships in this way. In our focus groups, teens discussed some of the potential negative effects of documenting their romantic relationships on social media, which ranged from increased drama to a general loss of privacy.
69%
of teen daters who use social media
agree that too many people can see what's going on in their relationship on social media
.
A lot of people kind of don't like it on social media because it doesn't need to be on there. Cause as long as the two [people]know how they feel about each other. I feel like if you have it on social media, it's like more drama. Because like more people ask questions and stuff like that.
High school boy
I have a lot of family on Facebook. Like my grandparents and stuff. And my grandparents always like to comment on my statuses. ... So I don't like to make [relationships]so public.
High school girl
How Teens End Relationships
Digital communication plays a role in all aspects of teen romantic relationships, including when those relationships end. But even as text messaging and social media play a pronounced role in all other aspects of teen life, teens feel strongly that an in-person conversation -- or at worst, a phone call -- is the most socially acceptable way to break up with someone. Teens in our focus groups generally agreed that breaking up with a partner over text messaging or social media illustrates a lack of maturity on the part of the person who is ending the relationship.
Yeah, the best way is in person. Second best way is probably on the phone. I feel like it should be in person. It's kind of rude to do it on social media.
High school boy
On why you wouldn't use a text message to break up with someone:
You have to have maturity. That's like eighth grade stuff. ... I'd do it in person.
High school boy
I mean, I just don't think that's the proper way to do it. Especially, like, it's something different if you're doing it over direct message. Like where it's straight to their inbox. It's something different if you're doing it straight over a mention with, like, a picture or something.
High school boy
27%
of teen daters have broken up with someone via text message and
31% have been broken up with in this way
.
Yeah, even like a phone call. You can even call them on the phone and be like, hey, I don't think it's going to work. But like if you're texting them, that's really impersonal.
High school girl
It's kind of frowned upon to break up over, like, media. Like you're just going to have that right on your shoulders forever. Like, oh my God, he broke up with his ex-girlfriend over the phone.
High school boy
But even though breaking up via text message is largely frowned upon, 27% of teens with dating experience admit to breaking up with someone by text. In our focus groups, we heard from teens who have broken up with someone via text. Some said that they used text messaging because they didn't want to see their former partner hurt, while others wished to avoid facing anger or physical retaliation. Others said that they had never broken up with someone this way themselves, but have some sympathy for people who take this approach.
I don't know about other people, but for me, like, I personally hate hurting people and seeing them getting sad because of something I did to hurt them. So for me, I mean, I know it's not the best thing, but usually over text I just ... I don't have to see them get so hurt. And usually breaking up is really a hard thing for me. So it just helps me cope with that. I still feel bad about it, but usually texting is just better for me.
High school girl
A lot of people, if one person cheats or something or does something really terrible, then they both ... and he finds out, then they can just go to text. They're angry with them. It's impersonal. They don't want to talk to them. But if it's something like they're having just general relationship issues or they're not interested in each other anymore, it's way too impersonal to do it like on video or on your phone. You've got to talk to them.
High school boy
I think it's kind of lesser and slightly disrespectful to do it through text, but I understand why, because it does take a lot to, like, go up to someone and say that you're breaking up with them and to see their reaction. So I guess that's why lots of people just keep it to text. They don't have to deal with, like, seeing the person's face when they break up with them.
High school girl
What Happens After a Breakup?
When relationships end, teens must decide how to cope with continuing exposure to their former partner on social media and other platforms. Sometimes this exposure involves old photos and other reminders of the past, and 43% of teen daters have untagged or deleted photos of themselves and a past partner on social media. Other times this exposure involves an actual link to their former partner, and 42% have unfriended or blocked someone they used to be in a relationship with on social media. Teens in our focus groups described the range of behaviors that they engage in on social media in the aftermath of a break-up.
I see some girls post pictures of the boy they just broke up with and wrote a whole paragraph just like roasting them. Just like telling him all the bad things he did.
High school boy
It just depends on the reason why we broke up. If it was just because something simple, we don't have time for each other or to hang out in person, then that's fine. But if he's like a cheater, like he did some pretty bad stuff, then you're probably going to [do]that nice block on Instagram and all the other social media sites.
High school girl
On why you would take a break from social media after a breakup:
Because people come back and they'll ask me, well, what happened? What happened? Well, I don't want to talk about it. And they try to talk it out of me. I'm just like, I told you. I don't want to talk about it.
High school girl
Teens in our focus groups were somewhat divided on how best to deal with social media in the aftermath of a breakup. Some elect to delete all traces of their past relationship, while others prefer to maintain at least some connection. Ultimately, many teens agreed that this choice often depends on the nature of the relationship – the more serious the relationship, the less likely teens are to unfollow someone or remove all traces of their time together.
If you had feelings for them, you would stay connected.
High school boy
I mean it sucks for me if like I've had a relationship that ended when I didn't want it to, and still wish it didn't. And so, I mean, I can still go back and look at his Facebook every once in a while, so I mean, there are perks to it.
High school girl
On staying friends on social media:
You can still make sure they're doing OK.
High school girl
I guess it depends. 'Cause, like, if you're friends with the person still, that's OK. But if you're not, you're like really bitter, it's just like I'm erasing you from my life.
High school girl
They also spoke about whether technology makes the time after a break up easier or harder:
I guess you're constantly reminded of that other person like through seeing them on social media and seeing them with other people doing things without you, which can be hurtful.
High school girl
Many teens said they did not seek advice or help from friends via social media because they felt friends were more interested in gossip.
They're just trying to be nosy.
High school girl
They're always in your business.
High school girl
I feel like they should keep that, like, on text message or Facebook messenger because ... then you run the risk of other people getting involved.
High school girl
However, 63% of teen daters who use social media agree that social media allows people to support them when a relationship ends, and some teens in our focus groups said they received support on the platforms.
I don't know. I think social media makes it hard after a breakup, but it can make it easier because sometimes I want to talk to my best friend after I break up with someone. I'll be sad and then they're always there for me, and it's easier to talk to them over social media because then they won't see me cry or anything. So I can talk to them there.
High school Girl
TV mergers and buyouts
Get ready for a wave of TV mergers and buyouts
Weeks after the FCC relaxed ownership rules, Fox and Sinclair may buy Tribune Media.
20th Century Fox is reportedly looking to buy Tribune Media, potentially sparking a wave of consolidation in the TV business. The news comes via Bloomberg, which believes that the media giant has entered into secret talks to buy the broadcaster. Tribune Media is a potentially prize asset, owning 39 stations in 31 markets, including affiliates for all of the big five TV networks.
What's interesting here is not the rumored deal, but what will happen afterward, and how that'll affect the TV that we watch. In the face of cord-cutting and dwindling profits, consolidation is one way that companies can try to stay alive. Of course, that means that consumers have less choice as the field of businesses you can buy from dwindles.
Tribune Media is almost certainly going to be the subject of a bidding war, with the Sinclair Broadcast Group also reportedly considering a move. Doing so would give Sinclair a toe-hold it doesn't currently have in markets like New York, LA, Chicago and Cleveland. And one fewer broadcaster for everyone to deal with when it comes to negotiating fees.
The reason for this sudden interest in Tribune, and potentially a wave of further purchases, stems from a decision made on April 20th by Trump's FCC chief, Ajit Pai. If you're unaware, the rules around media ownership say that you can't own stations that reach more than 39 percent of US households. The rule is designed to prevent one company from gaining undue influence over the flow of information to people.
But stations that use UHF to broadcast their channels were entitled to only count half of their broadcast footprint, a so-called "UHF Discount." That meant that there were owners who reached more than 39 percent of US households, but were essentially given a free pass.
Back in the '80s and '90s, that made sense, since UHF was a weaker signal than VHF, but with the switch to digital, the positions were reversed. As a consequence, Tom Wheeler suspended the discount to ensure that broadcasters weren't swallowing their rivals in pursuit of a monopoly.
Unfortunately, on April 20th, the FCC voted on party lines to restore the discount, potentially sparking a wave of new buyouts. With the news that Tribune Media is being eyed by both Fox and Sinclair, it's clearly becoming true.
Facebook promoted ads targeting teens with low self-esteem
It's accused of being exploitative, even if it meant well.
It won't shock you to hear that Facebook customizes the ads you see -- in some cases, it's vital. However, the social network's Australian office appears to have pushed that personalization too far. The Australian has learned (subscription only) through a leak that Facebook was touting its ability to target teens with ads based on their feelings, including when self-esteem is low -- say, when they're feeling "stupid," "worthless" or like a "failure." It did promote ego boosts in those moments (such as "body confidence"), but it's hard to deny the exploitative nature of selling products to teens at their most vulnerable.
Facebook hasn't said whether or not this ad model has been used outside Australia, but it was quick to apologize when asked by
The Australian
for comment. The company is investigating the "process failure," it says, and plans to take "disciplinary and other processes as appropriate."
This doesn't mean that Facebook violated the law, either in Australia or elsewhere. The leaked document only talks about aiming ads at teens 14 years old and up, which fits in with Australian regulations. Nonetheless, it's bound to reinforce beliefs that Facebook still has work to do when it comes to responsible ad targeting. While it's legal to pitch ads to teens, that doesn't make it acceptable to take advantage of their weaker moments.
Overload
Information Overload
Most Americans like their choices in today's information-saturated world, but 20% feel overloaded. Tensions occur when institutions place high information demands on people.
Since the 1970s, the term "information overload" has captured society's anxiety about the growth in the production of information having potentially bad consequences for people as they struggle to cope with seemingly constant streams of messages and images. The advent of the internet, it was thought, would only exacerbate this, with the onset of ubiquitous connectivity turning information overload into something even more debilitating.
A new Pew Research Center survey finds that, for the most part, the large majority of Americans do not feel that information overload is a problem for them. Some 20% say they feel overloaded by information, a decline from the 27% figure from a decade ago, while 77% say they like having so much information at their fingertips. Two-thirds (67%) say that having more information at their disposals actually helps to simplify their lives.
The survey shows that most Americans are comfortable with their abilities to cope with information flows in their day-to-day lives. Moreover, those who own more devices are also the ones who feel more on top of the data and media flows in their lives. Those who are more likely to feel information overload have less technology and are poorer, less well-educated and older.
The Pew Research Center survey in April 2016 of 1,520 Americans age 18 and older measures how they cope with information demands in their lives and how they feel about the volume of information they encounter. Generally, Americans appreciate lots of information and access to it.
81% of adults say this statement describes them "very well" (61%) or "somewhat well" (20%): "I feel confident in my ability to use the internet and other communications devices to keep up with information demands in my life."
80% say this statement describes them "very well" (41%) or "somewhat well" (40%): "Most of the time, it is easy for me to determine what information is trustworthy."
79% say this statement describes them "very well" (44%) or "somewhat well" (35%): "Having a lot of information makes me feel like I have more control over things in my life."
Still, even as many feel they have a relatively easy time handling information flows, there are two tensions around information that emerge in the survey results. First, those with fewer pathways to the internet are more likely to express concerns about information overload and to report difficulty in finding information they need. We highlight three kinds of access pathways – home broadband, smartphone and tablet computer ownership – as a way to characterize people with "access abundance" (that is, they have all three) compared to those with relative "access scarcity" (that is, those with one or none of those access assets). Those with "access abundance" say they have easier times managing information than others. Just one quarter (24%) of these adults say they sometimes have difficulty finding information. By contrast, half (49%) of those with relative access scarcity say this.
Second, when institutions expect people to bring a lot of information with them to carry out tasks, some Americans find it can be burdensome to keep track of the volume of information needed. Nearly half (46%) of Americans say this statement describes them "very well" or "somewhat well": "A lot of institutions I deal with – schools, banks or government agencies – expect me to do too much information gathering in order to deal with them." Those who feel this way are more likely than others also to say that keeping track of information is stressful for them (56% vs. 30%).
These findings suggest that information overload may not be the right way to frame anxieties about the volume of information in people's lives. Rather, information overload is more situational: Specific situations may arise, such as when institutions impose high information demands on people for transactions, which create a sense of information burden for some Americans.
E-Commerce
Online Shopping and E-Commerce
New technologies are impacting a wide range of Americans' commercial behaviors, from the way they evaluate products and services to the way they pay for the things they buy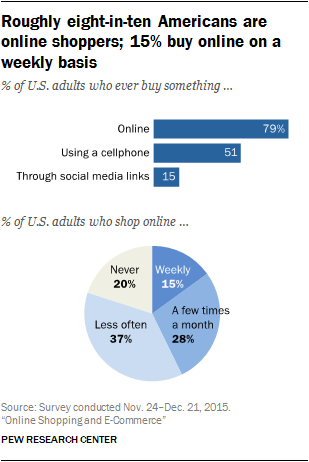 Americans are incorporating a wide range of digital tools and platforms into their purchasing decisions and buying habits, according to a Pew Research Center survey of U.S. adults. The survey finds that roughly eight-in-ten Americans are now online shoppers: 79% have made an online purchase of any type, while 51% have bought something using a cellphone and 15% have made purchases by following a link from social media sites. When the Center first asked about online shopping in a June 2000 survey, just 22% of Americans had made a purchase online. In other words, today nearly as many Americans have made purchases directly through social media platforms as had engaged in any type of online purchasing behavior 16 years ago.
But even as a sizeable majority of Americans have joined the world of e-commerce, many still appreciate the benefits of brick-and-mortar stores. Overall, 64% of Americans indicate that, all things being equal, they prefer buying from physical stores to buying online. Of course, all things are often not equal – and a substantial share of the public says that price is often a far more important consideration than whether their purchases happen online or in physical stores. Fully 65% of Americans indicate that when they need to make purchases they typically compare the price they can get in stores with the price they can get online and choose whichever option is cheapest. Roughly one-in-five (21%) say they would buy from stores without checking prices online, while 14% would typically buy online without checking prices at physical locations first.
Although cost is often key, today's consumers come to their purchasing decisions with a broad range of expectations on a number of different fronts. When buying something for the first time, more than eight-in-ten Americans say it is important to be able to compare prices from different sellers (86%), to be able to ask questions about what they are buying (84%), or to buy from sellers they are familiar with (84%). In addition, more than seven-in-ten think it is important to be able to try the product out in person (78%), to get advice from people they know (77%), or to be able to read reviews posted online by others who have purchased the item (74%). And nearly half of Americans (45%) have used cellphones while inside a physical store to look up online reviews of products they were interested in, or to try and find better prices online.
The survey also illustrates the extent to which Americans are turning toward the collective wisdom of online reviews and ratings when making purchasing decisions. Roughly eight-in-ten Americans (82%) say they consult online ratings and reviews when buying something for the first time. In fact, 40% of Americans (and roughly half of those under the age of 50) indicate that they nearly always turn to online reviews when buying something new. Moreover, nearly half of Americans feel that customer reviews help "a lot" to make consumers feel confident about their purchases (46%) and to make companies be accountable to their customers (45%).
But even as the public relies heavily on online reviews when making purchases, many Americans express concerns over whether or not these reviews can be trusted. Roughly half of those who read online reviews (51%) say that they generally paint an accurate picture of the products or businesses in question, but a similar share (48%) say it's often hard to tell if online reviews are truthful and unbiased.
Finally, this survey documents a pronounced shift in how Americans engage with one of the oldest elements of the modern economy: physical currency. Today nearly one-quarter (24%) of Americans indicate that none of the purchases they make in a typical week involve cash. And an even larger share – 39% – indicates that they don't really worry about having cash on hand, since there are so many other ways of paying for things these days. Nonwhites, low-income Americans and those 50 and older are especially likely to rely on cash as a payment method.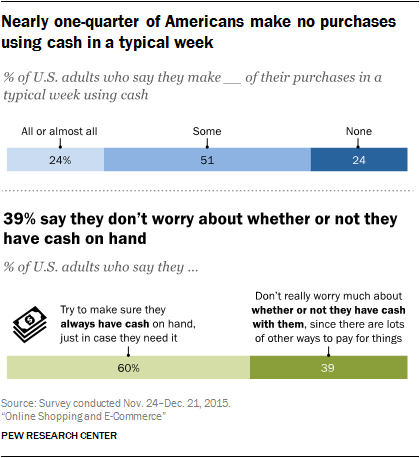 Among the other findings of this national survey of 4,787 U.S. adults conducted from Nov. 24 to Dec. 21, 2015:
12% of Americans have paid for in-store purchases by swiping or scanning their cellphones at the register.
Awareness of the alternative currency bitcoin is quite high, as 48% of Americans have heard of bitcoins. However, just 1% of the public has actually used, collected or traded bitcoins.
39% of Americans have shared their experiences or feelings about a commercial transaction on social media platforms.
Create the New Uber
Last spring, Google's parent company, Alphabet, started experimenting with a Uber-like carpooling service in San Francisco for select users of its direction app, Waze. Now, the company plans to open the service up to everyone in the Bay Area, lining it up in opposition to Uber and Lyft, the Wall Street Journal reports.
There are some key differences between Google's app and Uber and Lyft's services, though. Waze is billed as more of a carpooling app, rather than a taxi service, and aims to connect people who need rides with drivers who are already headed in the same direction. Waze also suggests riders call for a ride a few hours ahead of time, rather than use the app to hail a ride immediately.
It's a lot cheaper than Uber and Lyft, too. Waze charges riders a max of $0.54 per mile, which Google isn't currently taking a cut of. The company says its keeping the fee low to discourage people from becoming full-time taxi drivers.
Despite the differences, Waze will place Google in even more direct competition with Uber, after the ride-sharing company announced earlier this month it would be sending driverless vehicles to pick up riders all across Pittsburgh. Google has long been dabbling in the autonomous vehicle game, so its foray into the booming ride-sharing market seems to be business as usual.
Model S in for a Chevy Bolt EV
If you think the Tesla Model S is the only EV good enough for tech royalty like Apple co-founder Steve Wozniak, you might want to reconsider your stance.
That's because, according to the Woz's verified Facebook page, he's planning to trade in his Model S for the forthcoming Chevrolet Bolt EV.
The Woz famously bought a Model S after Elon Musk chided the Apple co-founder in an email for buying a gas-powered car. And although the Woz made the change over to pure electric with his $100,000-plus Tesla, he's not necessarily one for luxury.
In fact, the keen eyes at Electrek highlighted Woz's explanation for his plan to switch over to the mass-market Bolt EV from the decidedly upmarket Model S:
Knowing myself, it may replace the Tesla. A lot of complaints about the Tesla that my wife and I have are solved in this car. It's not just some name where you have to take a side. The user conveniences are well thought out and the functionality is great. I tell everyone that the most valuable, useful car of my life was the Prius that I drove for 10 years. I don't need top-of-the-line luxury. We have a Tesla but there is no other EV choice that's good for road trips. The Bolt will need some personal testing by Janet and myself to find out how it is on road trips. Otherwise, it's what we want. Extra features aren't the big picture, or we'd have skipped the Tesla for a Mercedes.
This should prove a great example for those waiting patiently (for who knows how long) for Tesla's mass-market Model 3. Not only will Chevy's Bolt EV have a 200-plus mile range, it solves complaints owners have with Teslas — at least according to the Woz.
So, if you want a great, affordable long-range EV and don't want to suffer the unknown wait for the Model 3, Bolt EVs hit showrooms later this year.
TECHNEWS WEEKLY
Apple Watch
Along with the iPhone 7 and iPhone 7 Plus and Apple Watch 2, Apple announced watchOS 3 will be available for download on Sept. 13, the same day iOS 10 drops.
WatchOS 3 is a software update that no Apple Watch owner will want to miss. As we touched upon at WWDC in June, Apple's reworked some of the core functions to make launching apps significantly faster through a new "Dock" and deemphasizes the app grid screen.
In other words, as Mashable chief correspondent Lance Ulanoff said: It's a do-over for the Apple Watch and it's what the software should have been when the smartwatch launched last year.
Some other notable new features in watchOS 3 include a new Control Center that provides quick access to settings, activated by swiping up from the bottom of the watch face.
There's a new Scribble feature that lets you doodle drawings and write out text.
Apple's also built in better support for apps to be integrated as "complications" (basically widgets) into watch faces. And, of course, there are new watch faces including a Minnie Mouse to match the existing Mickey Mouse.
A new Breathe app also focuses on wellness by nudging users to breathe and meditate for short periods, similar to Watch's stand up reminder feature.
There's also a SOS feature that will allow users to contact emergency services instantly.